Microsoft's Windows 10 nagware campaign has entered a new phase, with options to evade or escape an upgrade vanishing.
Recently, Microsoft's policy had been to throw up a dialogue box asking you whether you wanted to install Windows 10. If you clicked the red "X" to close the box – the tried-and-tested way to make dialogue boxes disappear without agreeing to do anything – Microsoft took that as permission for the upgrade to go ahead.
Now Microsoft is changing gears.
It has eliminated the option to reschedule a chosen upgrade time once you've confirmed you want the upgrade while also removing the red "X" close option from the screen, preventing you from backing out.
One Reg reader grabbed the below screenshot from a relative's PC on Windows 7.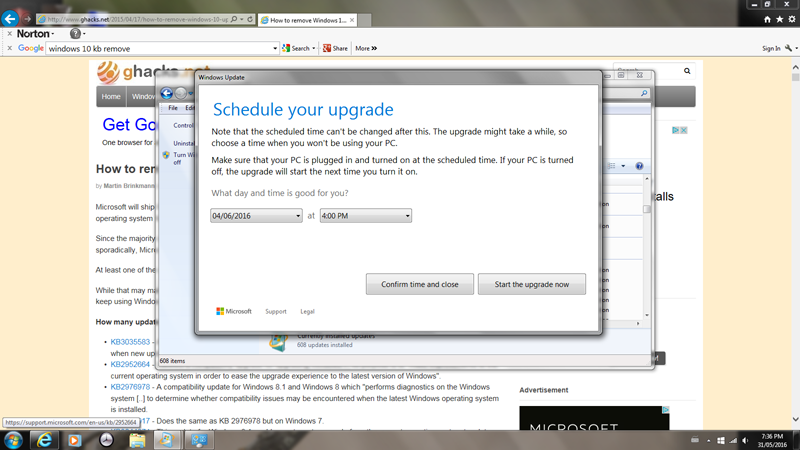 The change means Windows 10's nagware is now out of step with – and ahead of – Microsoft's official Knowledge Base documentation on the topic, which says you can reschedule your upgrade.
Microsoft has stood behind its operating system's nagging reminders. A representative has tried to excuse the "reminders", telling The Reg that the "your upgrade is scheduled" notification has been part of the UI motivation "for months."
The forced march comes as the clock ticks on the next update to Windows 10, Windows 10 Anniversary, which is due in July.
Microsoft seems to be engaged in a policy of mopping up as many outlying pockets of pre-Windows 10 as possible to avoid any potential conflict between the new operating system and PCs already in the market such as those on Windows 8.1 or, worse and much older, Windows 7.
Users of Samsung PCs are struggling with the current version of Windows 10. Driver compatibility issues between Samsung PCs and Windows 10 have not been solved, leading to installation errors and conflicts with components like wireless cards.
That has led Samsung to warn users of its notebooks and PCs not to upgrade to Windows 10.
Time to go to Linux, it seems. Gentoo for me, specifically.